Put the words "grilled" or "smoked" in front of just about any meat and it's enough to crank up most people's saliva glands into overdrive. We're talking bacon, ham, sausage, ribs, smoked turkey, smoked salmon—even smoked mozzarella!
The downside of foods prepared using either of these techniques is that they can lead to the formation of polycyclic aromatic hydrocarbons (PAH), which have been linked to both cancer and cardiovascular disease.[1] Now, researchers have found two unexpected ways to reduce those PAHs.
Researchers at the University of Reading in England teamed up with engineers at Besmoke—a company that produces smoked oils, salts, and spices—to explore ways to lower the concentration of PAHs in smoke used in food preparation. The team took a page from the auto industry by running the smoke through a version of the zeolite filter found in automobile exhaust systems. They then used the filtered smoke to prepare the meat. The study found that the filter reduced the amount of PAHs in the smoke by up to 90 percent.[2]
As quoted in Science Daily, the lead author of the study, Jane K. Parker, Ph.D., notes: "Zeolite filters, which are put in a tailpipe, have been used in the car industry to reduce environmental pollutants, but they haven't been applied to food yet. We want to change that."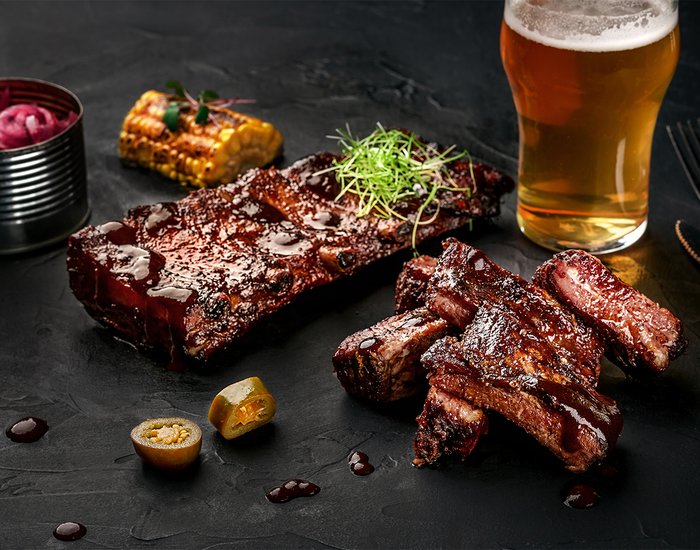 If that whole process seems too, well…exhausting, you can also reduce PAHs in grilled meat simply by marinating them in beer for four hours. Researchers marinated pork chops in three different kinds of beer and found significant reductions in PAHs for all three. Dark beer marinade reduced the PAHs by 68 percent. Non-alcoholic Pilsner beer cut these carcinogens by 36.5 percent, while its alcoholic cousin reduced them by 29.5 percent.[3]
These reductions are not as big as you'd get by running the smoke through a specially adapted zeolite filter, but the beer method is a whole lot simpler, and you can taste the "marinade" as you cook the meat.
How does the beer do it? Polycyclic aromatic hydrocarbons form with the help of oxygen-free radicals. Beers—especially dark beers—contain extra antioxidants, which have been shown to reduce the amount of oxygen free radicals available to the PAHs. As Scientific American noted, by using beer when grilling, "You can have your steak and eat it, too."
References
Fritz, W., & Soos, K. (1980). Smoked food and cancer. In Foreign Substances and Nutrition (Vol. 29, pp. 57-64). Karger Publishers.
Parker, J. K., Lignou, S., Shankland, K., Kurwie, P., Griffiths, H. D., & Baines, D. A. (2017). Development of a Zeolite Filter for Removing Polycyclic Aromatic Hydrocarbons (PAHs) from Smoke and Smoked Ingredients while Retaining the Smoky Flavor. Journal of Agricultural and Food Chemistry.
Viegas, O., Yebra-Pimentel, I., Martínez-Carballo, E., Simal-Gandara, J., & Ferreira, I. M. (2014). Effect of beer marinades on formation of polycyclic aromatic hydrocarbons in charcoal-grilled pork. Journal of Agricultural and Food Chemistry, 62(12), 2638-2643.