Bariatric Surgery Wasn't Enough | From Little Guy to Morbidly Obese | I Dropped Dead of a Heart Attack | Lifting Her Way Out of Grief | At 600 Pounds, Change Was Possible | How a Car Crash Created Change | The Incredible Shrinking Man | If You're Obese, Your Life Is Not Over | Eating Was the Only Way I Could Cope
Walking 2 miles might not seem like a lot, but when you're over 600 pounds and relying on that walk for each and every one of your meals, it's a different story. "Drastic" might be a word that comes to mind when you think of taking that trek to and from your local Walmart for breakfast, lunch, and dinner, but for Pasquale "Pat" Brocco, it was a major step in a life-changing journey.
What began as a childhood habit of fast-food-fueled overeating quickly became scary after Pat's doctor said the words "pre-diabetic," "high blood pressure," and "gastric bypass." He may have taken baby steps at first, but Pat eventually shed over 300 pounds in three years. This is his story.
Why did you decide to transform?
A little over three years ago, I was a bodyguard touring with a notable comedian. We placed a friendly bet on the NBA finals, and the loser had to do 50 push-ups. I lost. When I attempted to crank out my punishment, I couldn't even do one push-up. This happened in a room full of people, mostly ladies, and it was embarrassing. I was supposed to be protecting them, and I couldn't even do one push-up. To add insult to injury I was in front of a comedian, so you can just imagine how that went.
I stayed on tour for about six more months and then finally decided to go to a doctor. I couldn't weigh myself on home scales, so I had no idea what to expect. The doctor told me I was 605 pounds, prediabetic, morbidly obese, and had high blood pressure. He suggested I consider gastric bypass! It was one of the scariest, eye-opening moments of my life. I was 28 and making my death bed.
Did you head home and automatically change?
I emotionally ate for about a week. Then, one morning, I looked at my reflection when getting out the of shower. I was ashamed of what I saw. My stomach hung to my thighs, and my breasts were huge. I knew I couldn't live like this anymore. I needed to change, and that's exactly what I did.
I headed straight for the kitchen, emptied my cabinets and refrigerator, and threw all the junk food away. At 600 pounds, I couldn't do much in terms of exercise, so I decided to walk to get every meal I ate. I knew I'd get hungry 3-4 times a day, and I used that feeling to motivate me to my destination. When it was time to eat breakfast, lunch, or dinner, I'd walk a mile to Walmart and a mile back. I did that for my first 60 days.
How was the transition from not working out at all to walking a few miles a day?
Just starting off walking at 600 pounds was hard—my feet were swollen and sore, my knees hurt, and then, to top it off, I lived in a third-floor walk-up. The Arizona heat didn't help. By the time I got home, I was exhausted. It was definitely a challenge. Even though it was physical, a lot of it was mental too.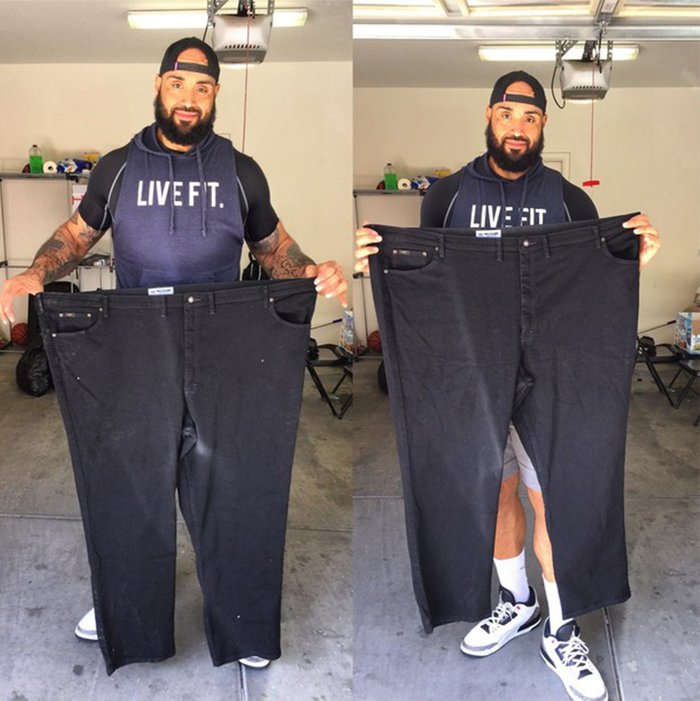 How did you motivate yourself to keep going?
It used to take me about 30 minutes to get to Walmart, and halfway through, I'd have to take a break. The halfway point for me was a gas station. A lot of times, I'd get a water and sit in the air conditioning for a second—then I'd continue. Once I saw Home Depot, I knew I was there, because it was next to the parking lot of Walmart.
It wasn't easy, but once I started losing a little weight, that was motivation enough. It made me believe I could do it, and that just stuck with me. Within 60 days, I lost 90 pounds—just from walking. I'd wake up in the morning, buy my foods, come home, and do the same thing for the next few meals. Sometimes, if I needed a gallon of water, I'd walk to the gas station. I was walking about 6 miles a day.
Do you think that sense of determination has translated to other aspects of your life?
Absolutely. I recently had skin-removal surgery and had to motivate myself this morning not to take pain medicine. I wanted my recovery to be all-natural. This morning, I woke up and was struggling with pain and just said, "I don't need it." Sometimes we convince ourselves that we can't do something, but today I woke up with a whole different attitude that I can do it. The perseverance that kept me going on my weight-loss journey was the same thing that helped me today.
Going from buying each meal to having more food in the house, were you tempted to eat more at once?
The results kept me positive, focused, and motivated. I've weighed myself every day for over three years, and every day that I saw I lost a pound—or even one-tenth of a pound—I was like, "Yes! Forward progress!" It made me never want to cheat.
It's funny, because after two years of eating almost completely clean, I decided to have a cheat meal, and my body rejected it. It only tastes good for 30 seconds and makes me feel bad for days.
What did you eat on a typical day?
Meal 1: Pre-workout breakfast
Egg Whites
(scrambled)
8
Spinach
1 cup
Oats
1/2 cup
Almonds
1 handful
Meal 2: Post-workout snack
Protein Powder
50 g
Almond Milk
1 glass
Chicken
8 oz.
Vegetables
2 cups
Chicken
6 oz.
Vegetables
1 cup
Brown Rice
1/2 cup
Steak
6 oz.
Vegetables
1 cup
Brown Rice
1/2 cup
Protein Shake
1
Do you take any supplements?
How did you start your training regimen?
After those 60 days of walking for my meals and my near-100-pound weight loss, I decided to go to the gym. It was embarrassing. After losing all that weight, I was confident, but getting to the gym and still being too big for the 350-pound weight limit on the treadmill was hard.
Until I started losing some weight and felt comfortable enough to hit the gym, all I did was walk to get my meals. Once I joined a gym, I had no idea what to do. I was too big to fit into most of the machines, but I did whatever I could to train a different body part daily and get in an hour of cardio. I wasn't just big; I'm tall, too. People stared and made me uncomfortable, but I decided to make the best of it and run in the pool. I couldn't fit on all the machines, so I used the dumbbells or the cable machines—things that didn't have weight limits. It's all a progression, and I was making progress every day. Now I'm motivating other people.
How did you find the will to continue?
Every time I was sore or tired or something felt too heavy, I thought about all the people who made fun of me all my life for being big—all the people who pointed and stared and said hurtful things in the gym. I had something to prove—mostly to myself. I was tired of being the fattest guy in the room.
What do your workouts look like now?
Day 3: Rest
Days 6 and 7: Rest
What are your future fitness plans?
Fitness saved my life, and I plan on helping others save theirs through fitness as well. It's my way of life, and I feel it gives me purpose. I'm writing meal guides and workout plans and even helping people plan their meals. As far as my own journey, I just had skin removal and am planning on doing a men's classic physique show in early 2017. I want to get my pro card—not so that I can start a career in bodybuilding, but so that my journey can come full circle. I think that a former 600-pound man winning his pro card will motivate people to a new level. That's my main objective—to show people it's possible!
What are your suggestions for aspiring transformers and people who read your story and want to follow suit?
The first thing is to find your motivation: why you're doing it and who you're doing it for. If you can't think of anything concrete, think of yourself—about your health. It won't happen overnight, and it won't be easy. You may even fail, but nothing great comes easy. Just use failure as a stepping stone and as a lesson. Just start doing what's necessary, then do what's possible. Eventually, you'll be doing what you thought was impossible.
How did Bodybuilding.com help you along the way?
From the videos and workouts to the BodySpace community, Bodybuilding.com helped me track my progress, workouts, and goals for an eight-week challenge. It was one of the first times I realized that it was about so much more than winning.
For eight weeks, I worked harder than I can ever remember working. Even though I didn't win, I reached a new level on my journey. The journey is all about becoming a better you. Bodybuilding.com motivates you to start and helps you stay focused along the way. To me, that's more important than winning money.
What do you hope to do from here?
Once I was finally confident enough to share my story, I realized that people were following me for that reason. A lot of people don't know that it's possible. I try to direct myself toward people who need to know it's possible. They're happy that I'm sharing my journey and my every step—the good days, the bad days. I even shared my loose-skin surgery live on Snapchat. I just want to show that regardless of what you're trying to do, there's always a way.